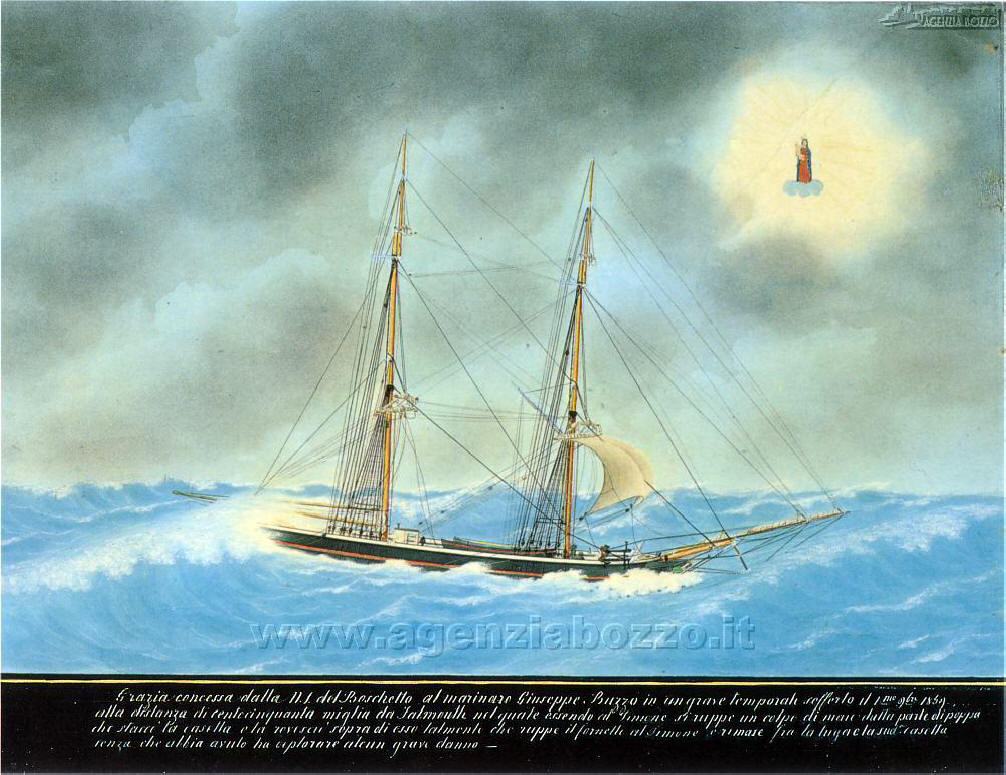 versione italiana

english version

16. GAVARRONE, DOMENICO 1860
Miracle on board for the sailor Giuseppe Bozzo
Watercolor on paper, cm 43,5x57 (inv. Costa n. 36)
Signed: Domenico Gavarrone Genova li 18 marzo 1860

Known data:
Caption:
"Grace granted by Our Lady of Boschetto to seaman Giuseppe Bozzo in serious thunderstorm suffered on 1.st 9ber 1859 at the distance of hundred fifty miles from Falmouth, in which being he to the rudder, a blow of sea from the stern part hit off and detached the after house and turned it upside down over him so that it broke off the stove to the rudder and he remained between tug and the said after house, without that he had to deplore any serious damages."
Notes:
As in the previous event, we have the full correspondence between the written story and the image, for the remembrance of the tremendous blow of sea hitting the boat on which was embarked Giuseppe Bozzo.
The carefully precision in the reconstruction of what happened extends to the descriptive accuracy of the details, from the hull to the figurehead, the ship's bell and the anchor.