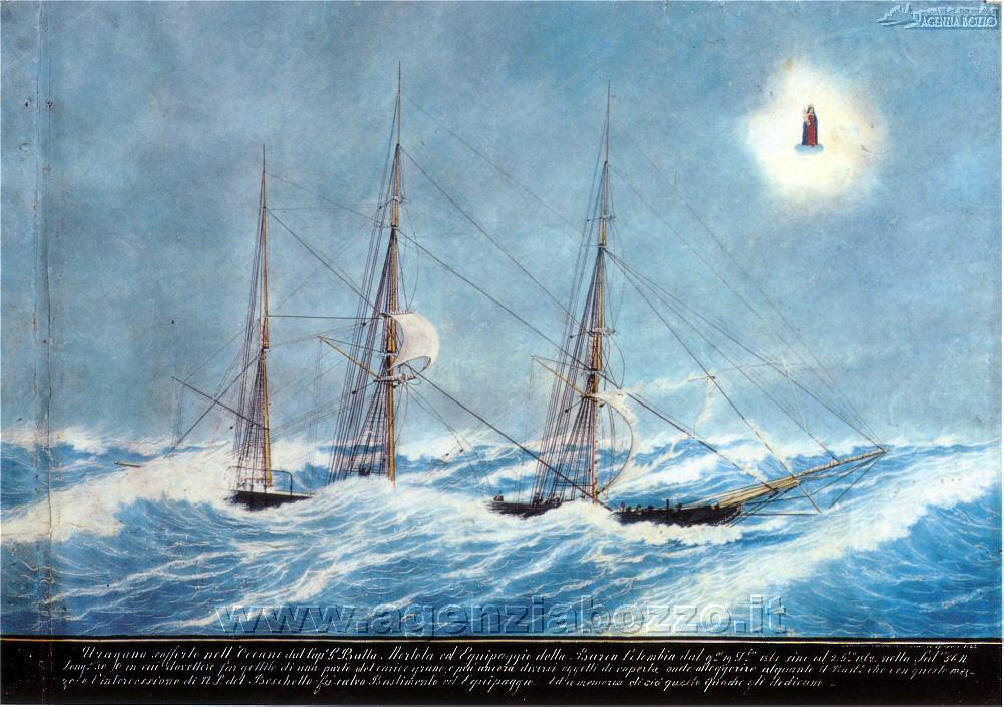 versione italiana

english version

19. GAVARRONE, DOMENICO 1863
The "Colombia" saved during a hurricane throwing part of the cargo to sea
Watercolor on paper, cm 49x69,5 (inv. Costa n. 46)
Signed: Domenico Gavarrone Genova li 17 aprile 1863
Known data:
TYPE: pole brig
YEAR OF CONSTRUCTION: 1856
PLACE OF CONSTRUCTION: Sestri
SHIPOWNER: G. Badaracco
CAPTAIN: Gio Batta Mortola
Caption:
"Hurricane suffered in the Ocean by Capt. G.Batta Mortola; and Crew of the Boat Colombia; from the 19th D.ber 1862 until the 2 J.ry 1863 in the Lat.de 56°N, Long.de 30° W, in which the crew had to make yield of a part of the loaded grain and other various objects recovered on deck to lighten somewhat the Ship, and with this means and the intercession by Our Lady of Boschetto was saved but Ship and Crew and in memory of that this picture to Her dedicates."
Notes:
The painting had been folded along the vertical left side, probably in order to adapt it to a preexisting frame, reducing of approximately cm. 5 its width.